What is the Year-End phase and why must I do it?
Each year, near the end of the Summer Term, it is necessary to roll-over your student data in Look@Me ready for the next academic year.  Additionally this process will produce the summary documents necessary for reporting to your Local Authority, importing to your Management Systems and for your own records.
When does the Year-End phase begin?
The date on which the Year-End begins (ie. the last date you can add evidence to Look@Me) is determined by the DfE EYFS Profile guidelines for national curriculum assessments.  Usually this is June 30th
What is different in the Year-End phase?
Once the year-end phase is started, the following changes happen: –
Users and Administrators will no longer be able to login on iOS devices to gather evidence (Parents can still log in to view evidence at this time)
Administrators logging in via the Web interface will be given the option to begin the year end process or log out.
Look@Me v12 Year End Screen
Look@Me v12 Year End Screen (above)
Look@Me v14 Year End Screen (below)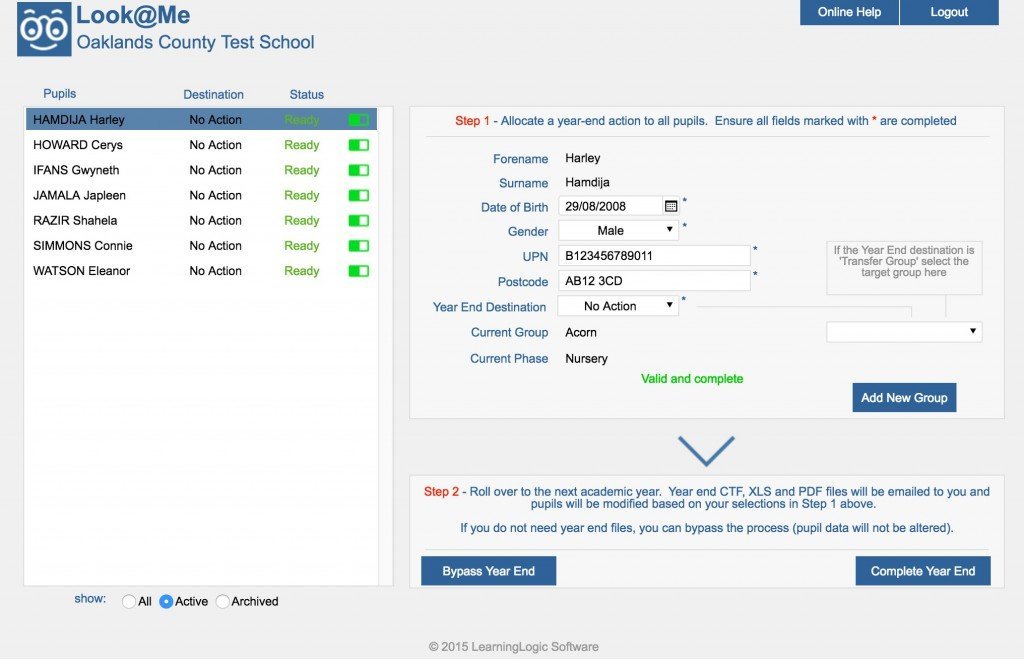 Look@Me v14 Year End Screen
How do I complete the Year-End Phase?
In the year end screen (pictured to the right, click for larger version), you will be presented with a list of all pupils you have entered in to Look@Me.  Selecting a pupil in the list will show their details on the right side of the page.
Make sure that all fields marked with a * are accurate and complete.
Use the 'Year End Destination' field to select what action to take with each pupil, the options are: –
Not Set – This is the default option – You must change this to one of the other options below
No Action – The pupils evidence and assessments will remain unchanged after the year-end phase is complete
Transfer Group – Use this option if you want to keep the pupil in Look@Me and move them to a different group or phase (eg. from Nursery to Reception).  An additional box is linked to this option to choose the group you wish to move them to.
Leaving EYFS – Selecting this option will remove the pupil from Look@Me after generating the necessary reports.  All of their evidence and assessments will be removed and parents and carers will no longer be able to log in to their childs account.
Migrate to Take@Look – If your School subscribes to the Look@Me sister product, Take@Look, you will be given this option to allow records to be directly transferred out of Look@Me and in to Take@Look.
Once you have selected a destination for each pupil and completed all information marked with a * you should see the pupil marked as 'Ready' for year end.
Next, we recommend you download a copy of their PDF profile from the box in Step 2.  You can also request a parent PDF (the same as a regular profile but with assessment data removed). Alternatively, some schools choose to email parents and carers advise them they can login using their parent accounts and download a copy themselves if they wish.
Finally, once you have completed steps 1 and 2, click 'Complete Year End' in step 3.  If you have accidentally left any pupils as 'Not Ready' a warning will appear asking you to correct the problem.
If all your data is correct, you will be asked to confirm you wish to proceed.  Clicking continue at this point will finish your Year end phase and queue your school information on our systems for generation of year end reports and completion of the process.  This can take up to 1 hour to complete, you do not need to stay logged in.
Once our systems have processed your year end data, you will be able to log back in as normal and the changes you selected in Step 1 – Year End Destination will have been carried out.  Users can begin gathering evidence again and iOS devices will again be able to log in normally.
Administrators will be able to download the year end reports from the School > Year End tab.
Other Questions & Answers
Q – Can I skip the year end phase or postpone it?
A – Yes, the Look@Me year end phase is set to coincide with the DfE determined year end date (June 30th each year).  However, if your school doesn't use Look@Me data for DfE returns and simply want to bypass the year end stage, simply click on the 'Bypass Year End' button on the year-end page.  If you do this by mistake and later want to re-enable the year-end process, please send us an email at support@learninglogic.co.uk and we will not re-implement the Year-End phase for your school. 
Q – Do I have to complete the year end process is one go?
A – No, your progress is saved as you go,  you can log out and come back to it over a period of several days or weeks as necessary
Q – How long have I got to complete the Year End process?
A – As much time as you need.  Your school Look@Me account will stay in Year-End phase indefinitely until you click 'Complete Year End'.  Howver please note you will be unable to add new evidence or assessments until you complete the process.
Q – Can Parents still log in?
A – Yes, parents can log in while the year end-phase is active, however if you set their childs destination to 'Leaving EYFS', they will no longer be able to log in after you complete the year end (because their child's information will be removed from Look@Me).
Q – What reports are generated when I click 'Complete Year End'?
A – 3 reports are generated.  A PDF summary of the assessment data for all pupils, a Microsoft Excel spreadsheet containing the same data and a CTF XML file which can be used to import data in to your management information system if it supports Common Transfer Files (CTF).  Your LA may request one or more of these reports from you for their records.
Q – Where can I find the year end reports?
A – After you have finished the year end phase, the reports can be found by logging in to the Learning Logic website as an administrator and selecting the School Details > Year End Files tab.